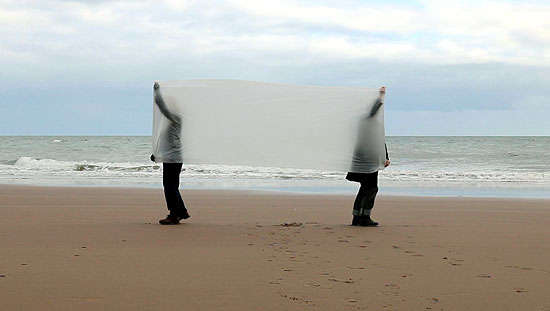 Clouded Border | 2021-
Clouded Border is an extended collaboration with Megan Calver, developed with and for Durlston Country Park & National Nature Reserve in Dorset. This site-responsive project draws inspiration from Durlston's history as a lookout and signalling station. Named after a variety of night-flying moth found on site, the project also references an innovative radio-based navigation system developed in part and deployed at Durlston during World War II. Known as Oboe, it allowed RAF bombers to precisely locate targets in Nazi-occupied Europe - at night or in heavy cloud or smog.
Two periods of residency at Durlston itself (June 2021 and March 2022) enabled us to research the site in depth, while a micro-residency at Exeter Phoenix (August 2021) allowed us to develop ideas about presenting the work in a gallery context. The first stage of the project will culminate in an exhibition in the Belvedere of Durlston Castle and a live event including a performance by oboist Paul Sartin (September 2022). A publication and moving image work will follow in 2023.
Updates on Instagram @clouded_border