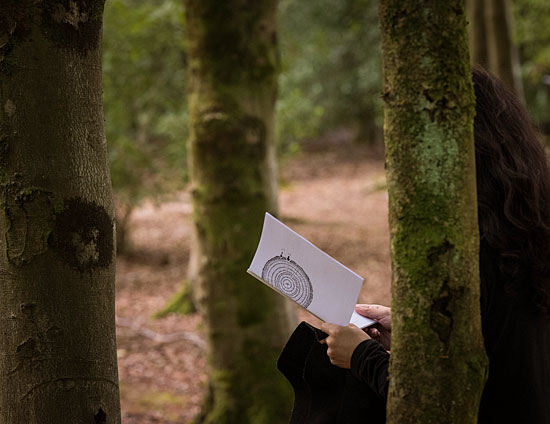 Turn (the) leaves | 2018 | Public participatory event and 8-channel sound installation
On 8 August 2018, Gabrielle Hoad and Megan Calver brought together a group of people and trees at Woodbury Castle on the East Devon Way for shared reading and response. Working from a simple set of instructions, participants created a new work of art together by reading aloud.
Recordings made on that day were then re-assembled as a sound installation, with gallery plinths and sound equipment standing in for people and trees. These created an indoor copse through which gallery visitors were invited to wander.
Commissioned as part of Art on the East Devon Way and shown at Thelma Hulbert Gallery, Honiton (2018). Sound Recordist: Tony Whitehead Technical Consultant: Tim King
Photo: Simon Tutty, courtesy Thelma Hulbert Gallery